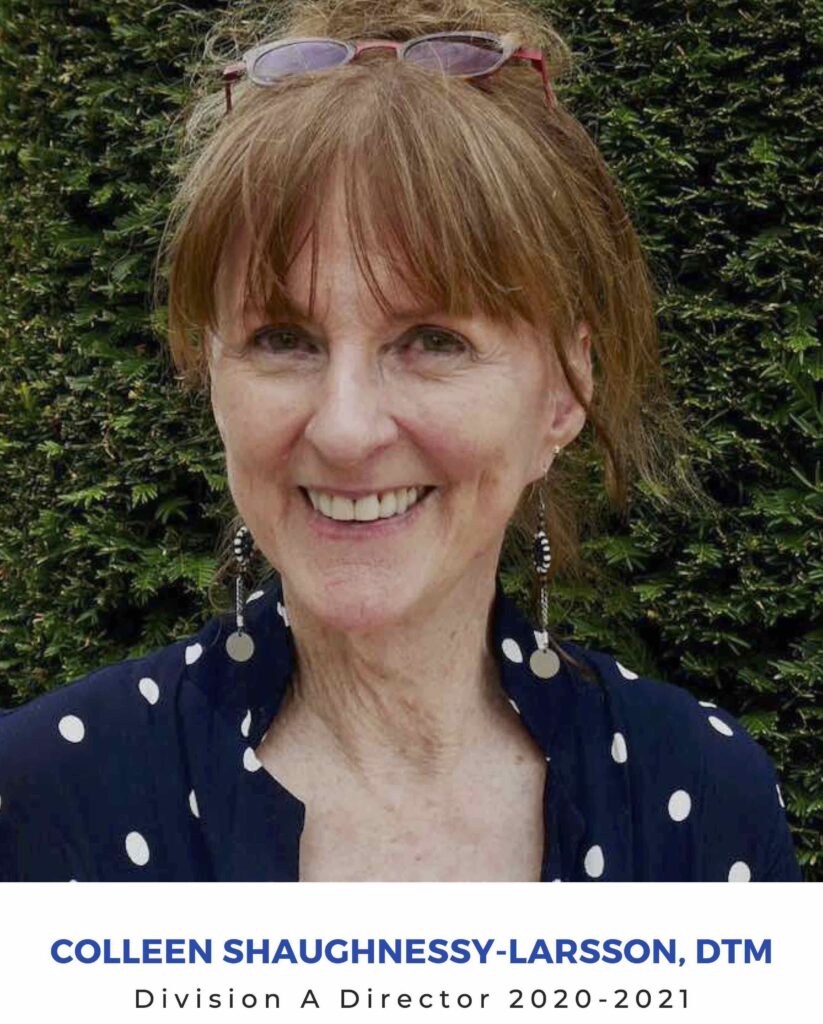 Dear Division A Members,
What an amazing year this has been!
Think back with me how much we have learned :
New technologies (Zoom, Zoom Masters, presentation tools, Miro, Prezi)
Risk management (membership loss and function, DCP challenges)
Creative development (Canva, games, quizzes, virtual backgrounds, guest speakers, webinars, clapping online, stage with curtains that open, flashing award images, etc.)
Area, Division and District Contests were held online but now contestants were more comfortable standing, moving and gesturing.
Your incoming club and district officers will bring bold, new ideas into 2021-2022.
This is an exciting time. Even Toastmasters International has had to move into the technological future.
Although life is fast-paced, we can still "We learn best in moments of enjoyment"–Ralph Smedley.
Toastmasters and our meetings are our moments to relax, laugh and enjoy camaraderie. Were you ever alone during confinement?
Not if you attended club meetings locally or globally.
Enjoy the rest of June and prepare to welcome July 1, 2021-2022 with new officers and a big and warm HELLO!
See you soon (hopefully in person!!)
Cordially,
Colleen Shaughnessy-Larsson DTM
Division A Director 2020-2021
District 59 Director-elect 2021-2022
THANK YOU AREA DIRECTORS 2020-2021
A large thank you!!! To all the Area Directors 2020-2021 for their hard work, enthusiasm, and great spirit helping the Division A clubs during this unusual year!
Area 1 – Aude Herrenschmidt, Berlaymont Toastmasters (Brussels)
Area 2 – Claire LeGrand, Lutèce 75
Area 3 – Prémel Patter, Lutèce 75
Area 4 – Audrey Rozowykwiat, Agora 75
Area 5 – Omar Fariss, Toastmasters 75
Area 6 – Carlos Serhed, SpeakUp Paris!