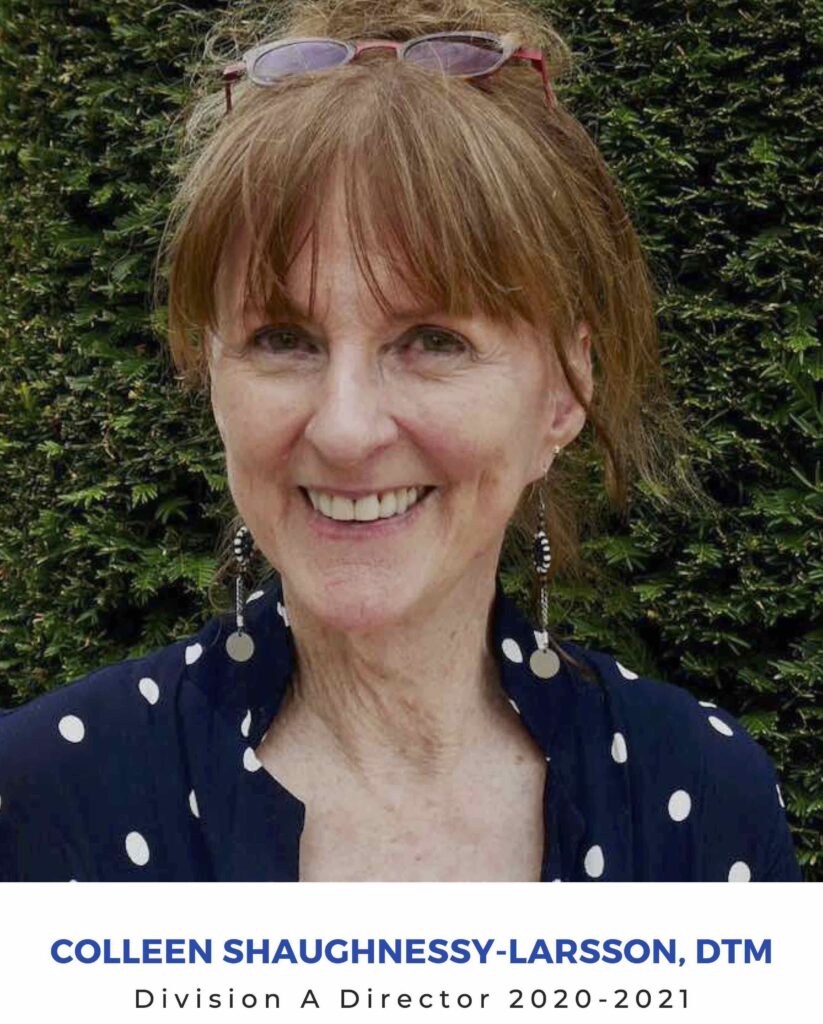 Dear Division A members,
In these pre-Spring Days prepare for Division A Spring activities: club and area
contests, mentoring each other, nominating future club and district leaders and continuing our learning experiences together.
Why a club contest?
Why are you in Toastmasters? Do you plan to present in front audiences professionally? Become or enhance your skills as a professional speaker? Participate in your club's contest.
Do you want to develop new skills in marketing, event planning, team collaboration? Work as a team member on the contest.
Speech Contests prepare you for your future as a public speaker.
Mentoring
Are you a mentor in your club? What guidelines do you follow?
Are you aware there are guidelines in the Advanced Mentoring Program?
The guide is found after completing Level 2.
The project includes templates for:
• Working with a protégé
• Protégé Success Plan resource
• Mentoring Communication Tracking Log
• Protégé Self-Assessment
• Mentor Evaluation resource
As the Toastmasters year 2020-2021 continues, prepare to build your confidence with new skills. Participate in the contests at club, area and division levels and become an advanced mentor.
Enjoy February with longer and brighter days!
Cordially,
Colleen Shaughnessy-Larsson, DTM
Division A Director 2020-2021
Dear Division A members,
In these pre-Spring Days prepare for Division A Spring activities: club and area
contests, mentoring each other, nominating future club and district leaders and continuing our learning experiences together.
Why a club contest?
Why are you in Toastmasters? Do you plan to present in front audiences professionally? Become or enhance your skills as a professional speaker? Participate in your club's contest.
Do you want to develop new skills in marketing, event planning, team collaboration? Work as a team member on the contest.
Speech Contests prepare you for your future as a public speaker.
Mentoring
Are you a mentor in your club? What guidelines do you follow?
Are you aware there are guidelines in the Advanced Mentoring Program?
The guide is found after completing Level 2.
The project includes templates for:
• Working with a protégé
• Protégé Success Plan resource
• Mentoring Communication Tracking Log
• Protégé Self-Assessment
• Mentor Evaluation resource
As the Toastmasters year 2020-2021 continues, prepare to build your confidence with new skills. Participate in the contests at club, area and division levels and become an advanced mentor.
Enjoy February with longer and brighter days!
Cordially,
Colleen Shaughnessy-Larsson, DTM
Division A Director 2020-2021
Chers membres de la Division A,
Profitons de cette période annonciatrice du printemps pour préparer les activités de printemps de la division : organisons nos concours de club et de secteur, mettons l'accent sur le parrainage mutuel, nominons les futurs leaders de nos clubs et du district et poursuivons tous ensemble notre expérience d'apprentissage.
Pourquoi faire des concours dans nos clubs ?
Pour quelle raison êtes-vous Toastmaster ? Avez-vous l'intention de faire des présentations professionnelles en public ? Souhaitez-vous devenir un orateur professionnel ou améliorer vos qualités d'orateur ? Inscrivez-vous aux concours de votre club.
Souhaitez-vous acquérir de nouvelles compétences en marketing, en planification d'événements, en animation d'équipe ? Proposez votre collaboration pour gérer un concours.
Les concours oratoires vous aident à préparer votre futur d'orateur.
Le mentorat
Au sein de votre club, êtes-vous déjà mentor ? Quelles directives suivez-vous ? Savez-vous que vous pouvez trouver ces directives dans le programme avancé du mentorat ?
Vous les trouverez après avoir terminé le niveau 2.
Le projet comprend des modèles pour vous aider à :
• Travailler avec votre protégé (filleul)
• Trouver la documentation pour aider votre filleul à réussir son parcours
• Suivre la communication au cours du mentorat
• Permettre à votre protégé de s'auto-évaluer
• Savoir comment vous évaluer en tant que mentor.
Tandis que l'année Tostmasters 2020/21 se poursuit, profitez-en pour renforcer votre confiance en vous grâce à de nouvelles compétences. Participez aux concours aux niveaux des clubs, des secteurs et de la division, et devenez un mentor expérimenté.
Prenez plaisir à voir les jours s'allonger et s'éclaircir en ce mois de février !
Colleen Shaughnessy-Larsson, DTM
Directrice de la Division A 2020-2021